Paella is on the menu
Tuesday, July 12, 2016
Would you like to start making Paella ?
I am sure you have heard of Paella before, you might not have tried it, or maybe you have ordered it before from a food truck at a local carnival fair… But have you ever cooked it before??
For those that may not know the dish that I am referring to as Paella is a Spanish rice dish that includes different combinations of meats, seafood's and vegetables, usually seasoned with saffron and can also have other spices dependent on the recipe.
It is said that the Paella dish was the perfect union between two cultures from Spain – The Romans (for the pan) and the Arab (that brought the rice).  The meats and seafood were plentiful, however Spain was not known for having forests of timber, therefore the fire was created out of branches and twigs.  Using these green pruning's offered a quick hot fire instead of your usual low slow fire for slow cooking of stews.  This therefore meant the pan had to be larger in width not depth for the distribution of heat at this rapid pace to maximize the evaporation process. This is where the Paella Pan and dish was born.
It is said that the Paella dish was created in Valencia a city in Spain.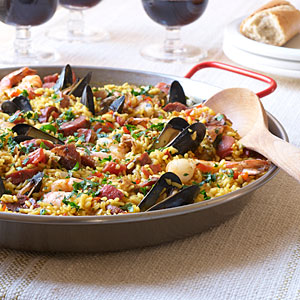 We are so thrilled to be able to offer here in Australia a wide selection of Paella Pans also made in Valencia Spain.  In a large assortment of sizes and a choice of High Carbon Polished Steel or Enameled Steel.  Created for everyday commercial use, these pans are durable and made to provide quick heat distribution.  Suited for use on gas, electric and open flames along with oven use and charcoal grills.  They are easy to clean with a recommendation of hand wash.
Also available are Garcima Paella Sets that come with pan, burner and stand all you need to do is connect your gas bottle and of course have the Chef on hand with fresh ingredients.  These all in one kits are ideal for outdoor cooking and offer a little tradition to the history of Paella, as it was often a Sunday night dinner which the Men would cook as tradition so the Women can have the night off.  The burners offer maximum control with each ring having its own knob allowing you to adjust the heat where and when it is needed, supplying even heat under the entire pan.
So what are you waiting for. 
If you are a restaurant or commercial establishment that wants to start offering Paella on your menu we can help. 
If you are a home cook that wants Sunday nights off and thinks this will be a great Father's Day gift, jump online and purchase today. 
If you are mum that knows her way around a Paella and needs a new pan, we have the selection for you.
Hospitality Products