Shorty Range by Libbey
Thursday, June 23, 2016
A unique glassware range for cocktail parties, cocktail and food pairings, welcome aperitifs/drinks or simply tastings.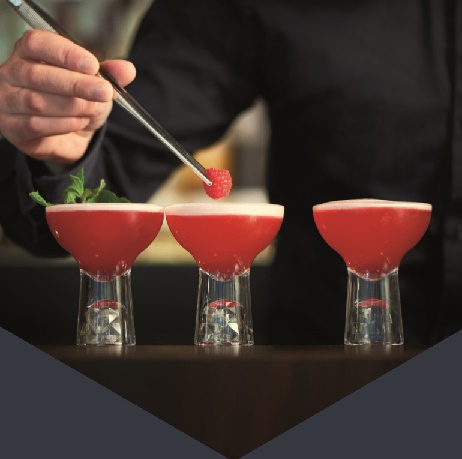 The Shorty range has been designed by Libbey to assist with reducing portion size, therefore improving your profit and enhance your guests experience at the same time. Often the standard cocktail glass can simply have too much volume for the drink you are serving, particuarly if you are serving a fairly strong cocktail like a Martini, Negroni or Black Russian. If you are serving the cocktail as a welcome drink or before dinner aperitive you also want to reduce cost however at the same time be offering a beverage that will delight your guests and you really don't need a large volume to do this.
The glassware range is simply esquisite with crystal bottoms and lovely shapes making them really nice to hold. There is also the added bonus that you can use the glassware in your tapas menu. For example by flipping the rocks glass over and serving a tasting mexican inspired dip in the base of the Shorty Rocks Glass, pairing the Shorty Martini Glass as a corn chip holder and serving a Margarita on the side in the Shorty Margarita Glass you have a very elegant trio in use.
The Shorty range is a perfect solution for a beverage degustation or tasting selection for a new menu.
Cocktails can often have an over powering sour or sweet taste therefore they can be difficult to match with food. However using the 'Shorty' range reduces the portion of your cocktails and therefore allows you to serve the dessert or canapes side by side with your cocktail pairing.. When you think about it ... This could be a very exciting experience for your customers, if the pairing therefore enhances the flavours of both food and cocktail.
We are thrilled to release this range and hope to see it used in so many ways. Your options really are endless and no matter how you decided to incorporate the Shorty Range into your restaurant, bar, hotel or lounge you will be sure to add a touch of elegance and I am sure your customers will certainly be impressed with the Shorty experience.
Hospitality Products