Tradeshow Findings
Tuesday, September 20, 2016
So we recently took a trip to Melbourne for the Fine Foods Expo, there was exactly as the name says... Fine Foods... however I must say there was a lot of other Fine things in our Findings.
Naturally after the flight down a coffee was in order and A+ Coffee delivered the goods with a very nice smooth velvety coffee and then there was no time to waste.
Appointments were lined up already with a couple of our suppliers - who had some very exciting NEW products to show us. Before we could even get to the Tomkin stand we were captivated by the illuring Olympia Glasses, I am not going to even attempt to describe them to you as I simply won't be able to do them justice, there is a video on our FB page of one of these glasses. Naturally once they are up an running online you will be able to purchase them straight through the website.
Gusta.Table was already a recently new range we had online, it was really nice to see, touch and feel these pieces up close. The range goes by a quote of – 'Celebrate the day' – and this really does work for this range, it really isn't just for entertaining but an everyday range with a great price point to be used daily and enjoyed. Some pieces are porcelain whilst others in the range are stoneware – mix and match or simply purchase the pieces that work for you…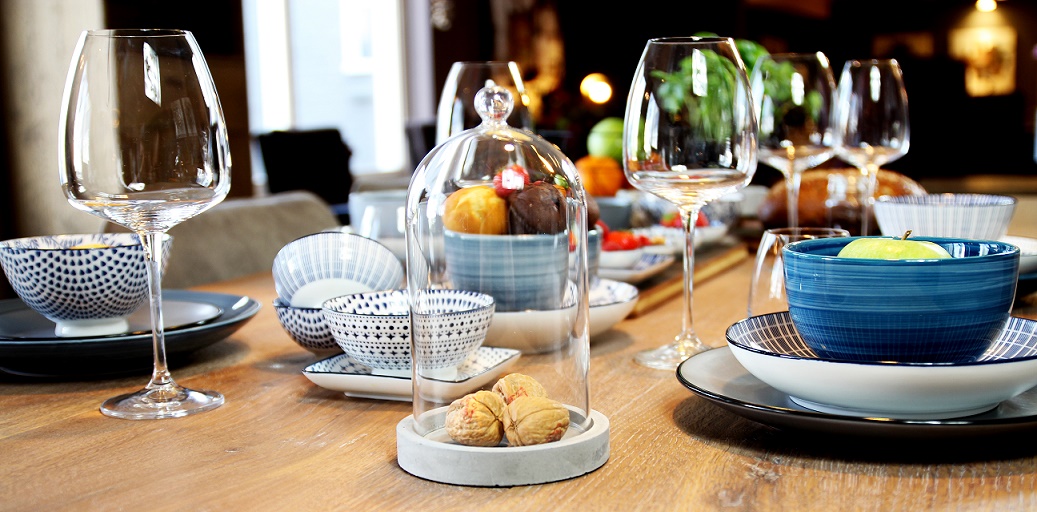 Mangowood Serving Boards by Chef Inox – Colour me and plate me up – This seems to be a very popular trend at the moment, not necessarily for countless meals on your menu, but for those meals that are well suited to this style, share platters, large dishes like a whole fish, tasting boards, dessert selections and so on – they also make great Tapas Boards. This is not a NEW range however Tomkin have only JUST released all about Colour range – the same shapes and styles now available in Aqua, Coral and a forever favourite when it comes to food – Green. They offer you added rustic charm.
There were so many exciting pieces to looks at, add on's to ranges like the NEW creamers for the Brew range, a very nice Duralex glass - The Manhattan - that is tempered however offers breathtaking crystal lines, and some really nice bottles soon to come online with a metalic look.
Then there was Vilamoura - oh Vilamoura - absolutely stunning and sure to impress clientele and restauranteurs.
So we exhausted ourselves with the hype, photos we took and questions we had and made our move stumbled into a social media talk in the MYOB stand, interesting it was, and also nice to know we are doing the right things on social media channels that we use. It would be nice to have move likes, follows, and lots more comments - hopefully that will come over time. So with a snack of sweet potato crisps in a jalopeno dip that litterally took our breath away we were onto our next meeting an hoping a coffee may just make it into our hands along the way.
Instead of a coffee we landed at the stand of BioPak - they sell the cups our coffees are generally served in so we weren't completely of track. Biopak is a supplier we love for all they stand for. They have great customer service and offer superior products that are great for the environment and we love being able to offer these products to our customers. Whether it is adding them to order of glassware and cutlery or simply buying by the cartons as they need to. We recently added a few NEW products one which is the Green Line BioCups – One Lid Solution. Coffee is a big production these days and so is staying Eco-Friendly ! The ease of having just one lid to fit all sizes in this range is such a blessing. I know this as the customer and someone that worked in the industry for many years, it really does just make everything easier, as does knowing you are doing right by the enviornment.
So we made our way to the Phillip Lazarus stand, we were greeted with familiar faces, stools for my sore feet (heels were not a good idea) and some very impressive shelving and table setups.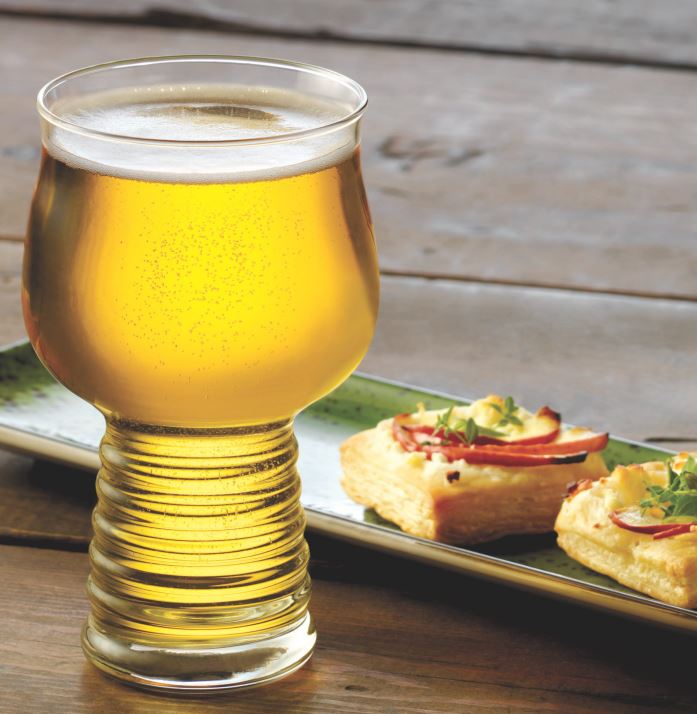 The tables were imaculet - setup brilliantly with real creative flair, fresh flowers in the Wine Bottle glasses, New and exciting ranges like the Titan Arezzo Brushed Black Cutlery, paired with Cielo White Tasting Well Plate and a elegant vintage wine glass. Exciting new glasses in the Tiki, Bamboo and Pinapple Coolers - they certainly grabbed my attention, there is no doubt these will be a popular trend this summer. The NEW Hobstar Coupe glasses were a stunning sight, along with the unique but exciting Cider Glasses which I am sure will be enjoyed by many - when you think about it - do we really want to drink cider out of a beer glass ? Not when you have comething as lovely as this offered to you !
The Farmhouse glassware range whilst very different has something really creative about the design and I can see modern cafe precincts will love to use these in their day to day service. Erthe Stoneware and The Spice Collection always impress me, so versatile and stand out, as did the NEW Gobble range, the texture was a stopping point for many passer by's who wanted to touch and feel them.
Last by by no means least - There is a simply stunning new range of Libbey Glassware – that you will be unable to resist… I promise you won't have to wait too long…it will be online before the end of Sept 2016. Strong, pulled stem, beautiful lines and idea for everyday hussle and bustle of commercial outlets, restaurants, and events.
That was almost the end of the day and we managed to chat with a few more interests we found along the way... we don't want to spoil things - keep your eyes peeled to our social media channels to fine out more about new supplier and products coming soon.
So our next day had to naturallyt start with a .... Coffee you guessed it - and this time from Bear Bones Coffee Roasters - and it was beautiful !
(I do love my coffee)
We had a chat with a few more of our suppliers looking at some really nice NEW products coming in end of this year - Melamine Boards and Platters made from petrified wood - offering a really unique way to disply not only food but bathroom and welcome in room amenities. The Lapis Serving Boards from Trenton by Cheforward are due in later in 2016. We are all very thrilled to get these out in the hospitality industry, I am sure these boards will do well, and truly captivate the diner. The hype at Trenton was not just about the launch of new and exciting ranges there was the ever popular and much talked about release of their 'bible' catalogue 975pages. It is brilliant - the pictures, and attention to detail, is by far the most stand out onseller catalogue I've seen.
The ever popular Stonecast range was on display - one of my all time favorites and NEW and exciting White Nano porcelain and NEW Pastal Zuma colours are coming on board for the already popular Zuma range. Studio Prints is a stand out pattern BRAND NEW range that has a decal print on the porcelain with a glossy porcelain finish. This is sure to be popular for city hotels, up market evening restaurants. Polysafe a well known brand - has released a BRAND NEW almost crystal design Polycarbonate Tumbler - It looks and feels so much like glass just without the weight. This one is a must for pool side spirits, bars and upper market events where a product like this is really required for safety.
Almost time to finish what has been a brilliant experience, we have met so many new and exciting companies, managed to catch up with current suppliers face to face which is always a good thing. Now to get back to the office and take a look at all the catalogues and brochures and upload these products to our site so you the Onseller, Consumer, Restauranter, Chef, Barman, Interior Designer or Home Chef can use and enjoy these.
Hospitality Products